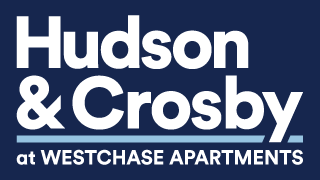 Resident Reviews
|Recommended: YesI Like It, Its Calm And Everyone Here Gets Along With Eachother — its peaceful, no one bothers anyone so its a pretty good place to rent
|Recommended: YesGreat Customer Service — Starting from the property manager to her leasing agents they have great customer service. This is my 2 month here and I love it Well recommended come and look for you new home at Crosby at Westchase.
|Recommended: YesThe Property Is Satisfactory Need A Proper To Correct Neighbors Violations — It's things can be improvef
|Recommended: YesHudson Review — I like the overall look of the apartments on the inside. There's rarely any parking only in the morning when everyone's gone for work. I wish the office people maintenance were more aware of problems within the apartment and let future residents know before signing lease. But other than that, it's definitely affordable.
|Recommended: YesSome Improvements — Needs some pest control and other work done but other than that good apts
|Recommended: YesThe Management Team Have Improved This Property For The Best. — I have lived here for many, many, many years and the property has gone through a lot of changes . . . and finally there is a management team that has added and updated things on the property to make it better for all the residents that live here. It is in a great location and a good place to live.
|Recommended: YesQuiet Place To Leave. — nice place to leave but we don't have access to the gate code wile other have knowledge of the code. so when you have visitor, you have to go outside open to him with your card. it's embasassing.
|Recommended: NoI Have Only Experienced Good Vibes In This Community — I have experienced goodness in this community so far
|Recommended: YesSo Far No Complaints I'm Loving It — That there is lighting at night which is good for me since I work at night
|Recommended: YesNice Place — Judy is very nice
|Recommended: YesMatinence — Living here is not as bad as people make it seem. New management is trying to clean the property and make it a safer place to live. I have been here almost two years and I have not had any major problems as of yet. Its not a bad area to live in for what you pay in price to be honest. The maintenance team is way better than the previous team before. They are fast a nd diligent. I can respect that.
|Recommended: YesThey Are Good Apartments — These are very quiet Apartments the people in the office work with you I just love living here
|Recommended: YesIts Ok — its nice
|Recommended: YesIt's A Calm Place To Live — It's calm, neighbors are kind, maintenance is awesome😊